---
With leftist insanity exploding across America as 'cancel culture' seeks to 'cancel out America' yet is instead leading to Democrats 'eating their own' as perfectly seen in Democrat state senator Tim Carpenter from Wisconsin being kicked in the head by protesters at the state capitol Tuesday night, most leftists pushing 'cancel culture' upon America are lost to the fact that their attempting to do away with the 1st Amendment could one day explode in their own faces and be used against them as we've seen through history in communist nations.
(Article by Stefan Stanford republished from AllNewsPipeline.com)
And with the left's war upon truth and free speech perfectly seen in this recent story over at the Daily Mail reporting a high school principal is being investigated for what they call a 'racist facebook post', it's long been warned that 'truth is treason in the empire of lies' and we're watching that now playing out before our very eyes.
So while this Daily Mail story and 'school investigators' are trying to destroy 'Deborah Morse-Cunningham' for sharing her opinion, which is still quite legal in America and the 1st Amendment well worth fighting for if push comes to shove, the Daily Mail readers ripped the 'investigators' to shreds as shared in their own 'opinions/comments' we've also republished below. So from this Daily Mail story before we continue. Her entire post can be seen in the screenshot below.
The New York City Department of Education has launched an investigation into a troubling Facebook post penned by an employee of a Staten Island high school. 

Deborah Morse-Cunningham, who serves as the assistant principal of New Dorp High School, is still at work despite sharing a lengthy status update in which she pondered the nature of privilege by referring to a number of racial stereotypes. 

'What is privilege?' Morse-Cunningham asked in the post, which has now been deleted.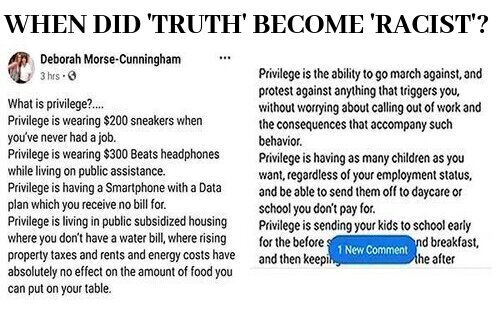 The commenters on the Daily Mail story ripped into little bits and pieces those who'd choose to 
'censor'
 mere opinions and those who called her opinions 
'racist'
 when she was actually only speaking truth to those who don't want to hear it. Some of the top-voted comments included: 
Itsbeenbetter, Somewhere, United States: Good for her. Speak up and don't be afraid of the mob! 

Nixliberalis, Newtown, United States: Yesss ! Alelujah ! No one deserves to have protected status from their values being critiqued. I don't even pay $200 for my best leather dress shoes. Nothing racist about it. Privilege knows no race or religion! 

CoachFinstock, Seattle, United States: I did not see one word that would be consider inappropriate. The lady was just sharing her opinion. 

The worst rated comment from Array, Manhasset, United States: Privilege is her teacher job for life. Now she can go on unemployment. She deserves To be fired. Did she really think no one would notice her FB rant? 
Yet while Americans are being punished for their opinions, as Zero Hedge reported in this recent story, Twitter, Facebook, YouTube and other 'big tech platforms' are busy allowing Communist party disinformation on their platforms while aggressively censoring Conservatives and Christians. With the left now protesting against Facebook for allowing what they call 'hate' on their website, and 'hate' being ANYTHING that President Trump supporters say in the leftists insane eyes, imagine America in 2021 if Democrats win the presidency, completely cave to their out of control mobs and try to BAN the 1st Amendment in America!
Of course, any such actions would be the final straw in the eyes of tens of millions of well-armed American citizens, with even America's Founding Fathers warning of such a possibility 200+ years ago and preparing Americans then for just such a possibility.
With a 'war upon free speech' and the 1st Amendment ultimately an 'act of war upon freedom and America', as we hear in the final video at the bottom of this story from NTD, everything about America is now under all-out Communist attack, with Democrats going happily along with the plan, and that sinister match made in hell pushing us towards complete destruction.
Read more at: AllNewsPipeline.com